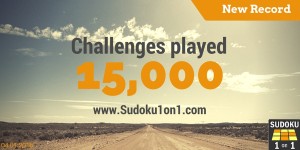 A new great milestone has been reached: Our players finished more than 15,000 Sudoku challenges until the start of the app in spring of last year!
Thanks to all fans, players and supporters!
All numbers on a daily and monthly basis can be found on the statistics page: online statistics page.
And the challenge goes on … start the challenge today and fight for every sudoku cell.